If you are local, I'm willing to bet you've heard about this little gem. Even many of those afar, through media coverage and social media, have heard about 'BC's Poorest Farm'. A farm that, year after year, grows a variety of produce in it's ever-expanding fields, and then gives it away. Yup, that's right. God's Little Acre's mission is to feed the hungry, with hopes of being fully sustainable by selling a small amount of crops on the side, by giving away hundreds of thousands of pounds of fresh produce. From soup kitchens and shelters to school programs, food banks and many, many individuals facing hardship for whatever reason, produce from God's Little Acre farm has touched the lives, bellies and hearts of countless people in the Lower Mainland, and beyond.
If you haven't heard of this humble, hunger fighting operation, let me give you a quick run down of its history.
Started in 2011, with a vision of a farm dedicated to feeding the needy, Jas Singh had $120 and permission to farm land he stumbled upon – a 30 acre hay-field, and a small amount of old equipment with a rent totaling a whopping $1. Through borrowing, trade and labour, Jas secured fertilizer and other necessities, financing only the seed potatoes. He put in full days at another farm to continue funding his project, working his open fields well into dark. While in his first year he could afford to farm just 3 acres, this labour of love yielded 62,000 lbs of potatoes that were given to Surrey Food Bank.
In 2012, the farm grew to 10 acres and grew a variety of vegetables. Funding this year came in the form of Jas driving a truck to Calgary and back on the weekends. With the farm now more than three times its original size, God's Little Acre needed some help if the crops were to be healthy and bountiful. As word of the farm and it's mission spread, people responded and volunteers appeared. The yield this year was roughly 70,000 lbs of mixed produce. More than 90% of that was given to food banks, soup kitchens and individuals.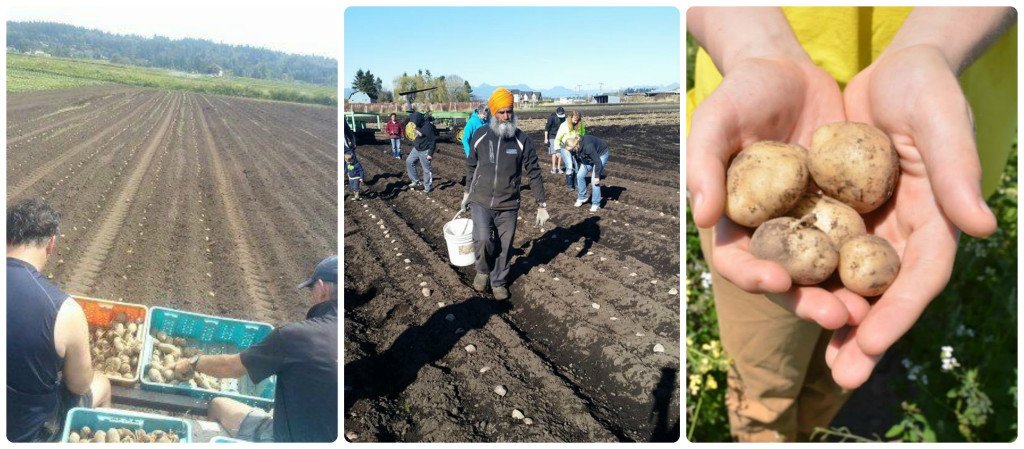 2013 saw growing public support and media coverage. But that's not all that was growing, so was the farm. Jas took on a second farm, covering another 42 acres. Seeding most of this by hand, Jas began to see the media and the public were essential to ensure the success of the farm. Putting his faith in humanity a public plea was released when harvesting before spoiling was essential. GLA had a steady stream of volunteers who support the simple mission, and in this year, produced and donated a staggering 200,000 lbs of mixed produce destined to various food banks, soup kitchens, shelters, individuals and school lunch programs. Funding came again from Jas, but also came in from individuals and corporations support what they are doing, and through the sale of pickling cucumbers and a small amount of produce grown at a small vending table near the office; a small step towards self sustainability.
2014 saw more expansion, growing to 5 farms and totaling 70 acres as well as establishing a database which includes over 1100 volunteers. They also saw challenges; crop devastation from unforeseen flooding being a large one. Despite this, 140,000 lbs of mixed product was harvested. The vast majority of this was given away, to most of the usual places, and many more individuals.  The small portion left over was sold at their very own market, encouraged by his 'army' of volunteers and other locals who appreciate fresh, organic produce at fair prices to open a larger market offering a larger variety of what is grown. This addition of not one but two market locations was a bold move furthering their progress to their self sustainable goal.
As 2015 starts, there are some growing pains. The simple equipment God's Little Acre farm has been using is no longer adequate for the size of the project, and borrowing tractors, as they have been doing in the past, is far from ideal. Encouraged, once again by his loving volunteers and hopeful for another favourable response, Jas Singh has once again made a public plea; only this time, it wasn't only for support, or picking peas, but for money. Money desperately needed to upgrade the farm to keep it on its trajectory towards full self sustainability and feeding the hungry. Jas set up a gofundme page with a goal of $50,000 to pay for two badly needed tractors – one for seeding, one for manure spreading, and to finance the charity portion with seed, fertilizer and such; with a goal of 150,000 lbs to be donated to the hungry. I'm pleased to say that roughly $33,000 has already been raised, and with that the frugal farmer has done a great deal! Two tractors have been acquired for remarkable deals, one with a remarkable story. There is, however, still the matter of fertilizer and other bits the farm needs. After seeing what Jas can do with $120, I have no doubt he will stretch every penny donated to maximize the number of mouths fed. I know he will do you proud with money you choose to give.
There's so much more to God's Little Acre than just the numbers. Children and adults alike get a twinkle in their eyes when talking about skating on the field Jas flooded in winter or the pumpkins that were given out by the thousands so every child could carve one. Teachers, after receiving free produce while on strike last year, are thankful, as are parents of students who attended free farm day camp during the strike. BC Cancer patients in tears after being routinely given whole, fresh, pesticide free produce to aid in recovery. And the kids. Oh the kids! These little pieces of the future we get to nurture, and inspire. They soak up everything at the farm, little sponges that they are, from sun and mud, to learning all sorts of things about nature and farming, from how seeds grow and what do they need, identifying vegetables, and learning where their food comes from.
At a recent volunteer support rally at God's Little Acre farm, my daughter was moved to speak up about her experiences there; about how important it is for children to see how food gets to their plates, to see that produce doesn't always look perfect and that a blemish doesn't mean it is bad and needs to be tossed or passed over like so many are. To see that you can grow delicious organic food without breaking the bank, so why are we paying so much for it? And man oh man! The enormous amount of hard work that goes into farming; from before the seedlings ever reach the field until they reach your fridge, the long hard days from before the sun rises until long after it sets. And that this project is bigger than any one man and he needs our help! At 10 years old, my daughter 'gets it' and is spreading the word. She will talk about the farm to anyone who listens. I am told this is not an uncommon side-effect, and can be closely linked with an addiction to dirt.
The farm is a great influence, as is the man who runs it. Jas continually shows us how we can do so much with so little if we only believe in our goal and are passionate and committed to it, and that you don't need a great amount of money to do great things and make changes or fill a need when you see it. That's really what it's all about, isn't it? Filling a need? And he does so without question. No humiliating forms to prove income level, living arrangements, nor are reasons for hardship etc are ever needed to gain access to fresh healthy produce.
This huge undertaking had very humble beginnings and has faced many challenges and some controversy along the way, but Jas Singh, the man with the vision he has never lost sight of, has not lost hope either. Some say he's doing the work of God. He is, after all a Christian man with God in the title of his farm. But if you ask me, he's doing the work of humanity; sharing his gift freely with those who need it, just as we should share our gifts, talents and blessings to help others when we see a need we can fill.
With your help, either by sharing (just click below this post!), donating, or volunteering your time, we can help ensure 2015 is the biggest year yet, helping even more people than ever before. If you know of an organization or individual who could benefit from what God's Little Acre has to offer, please, have them get in touch!
Visit the farm: 16582-40 Ave Surrey, BC V3S 0L2